What You'll See From AbelCine at NAB 2013
Wednesday, 13 March 2013
Every year at NAB, AbelCine brings you a selection of the very best cameras, optics, accessories and solutions that our industry offers. Here's a preview of what we'll be featuring in our booth #C6013 along with a few exciting surprises to be announced closer to the show.
Digital Cinema
AbelCine's booth will feature the Arri ALEXA Studio camera. We'll also showcase the new ALEXA Fiber Remote Option, which brings the camera's unrivaled image quality to multi-camera environments, such as broadcast studios or OB van productions. The Fiber Remote Option allows the camera to be controlled via SMPTE 311M fiber connection, with remote control for live painting.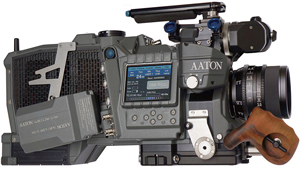 This year, legendary camera manufacturer Aaton is introducing the Penelope Delta. This digital cinema camera boasts a Super35 Dalsa CCD sensor, 800 and 100 ISO sensitivities, and an optical viewfinder. It records full res CineDNG ucompressed RAW files to an internal SSD recorder, while maintaining Aaton's famous "cat on the shoulder" ergonomics and lightweight body.
Phantom High-Speed
In just a few years, Phantom cameras have been accepted as the industry standard when it comes to high-speed digital image acquisition. The Academy Award-winning Phantom Flex continues as the benchmark for high-speed digital cinema production. Last year at NAB, the compact Miro M320S was announced, making professional high-speed image capture more accessible than ever. The recently released Miro LC320S offers a flip-out LCD touchscreen for on-camera monitoring and control.
Compact Cine
Canon continues to bring their expertise in large sensor photography to the video world with their Cinema EOS line. The C500 offers the flexibility of 4K, 2K or HD image capture in either PL- or EF-mount options. With outstanding image quality, it is suitable for features, VFX and 3D applications, while its little brother C300 shines for run-n-gun, indies and docs. The EOS-1D C is the first 4K DSLR camera from Canon. It offers 4K or HD motion capture, as well as 18-megapixel still images. With a rugged, ultra-compact factor and incredible low light sensitivity, the camera performs wherever your travels take you.
Sony's F-series now includes the popular F5 and F55 cameras, which bridge the gap between the F3 and F65. The Sony F5 is the next generation of the F3, with internal recording of HD & 2K, the possibility of 4K with an external recorder, and high-speed shooting up to 120 fps in 2K. The F55 builds on the F5 with an electronic global shutter, internal 4K recording, and the same vast exposure latitude and advanced color filter array technology used in Sony's flagship F65. The F65 boasts a state-of-the-art 20MP 8K CMOS sensor and 16-bit RAW at 4K. The F65 also features Wi-Fi connectivity, allowing you to control it from your tablet device.     
Optics
AbelCine continues our commitment to optical quality. Our sales and rental departments carry a large selection of glass from Angenieux, Arri, Canon, Cooke, Fuji, Schneider, Sony and Zeiss, and the latest models from these manufactures will be at our booth.
This year we will also be debuting new optical adapters co-designed by AbelCine and IB/E Optics  – the HDx2 Mark II, HDx35 Mark II, and a new PLx2 2x Extender.
We will be unveiling a line of Resolution Analysis Charts designed by our engineering team specifically for digital cinema. The charts provide easier yet more accurate focusing while demonstrating resolution and optical characteristics of the lens/camera combination.
AbelCine Services
AbelCine's service offerings are designed to fit all the ways you work today. Each of our departments offers deep technical expertise and a careful selection of production tools for every budget. 
Our departments are accustomed to working together, so that you can chose among our services in a way that makes sense for you. Since our services cover pre-production through post, you have the benefit of working with one company that understands all facets of your project.
Managers from all our departments will be at NAB to discuss our services and answer your technology questions.
We hope to see you in Las Vegas, April 8-11, at booth #C6013, where we'll have even more surprises that are still to be announced. For regular updates from the show floor, don't forget to check our blog and follow us on social media.